We are proud to welcome the WASZP_X to the WASZP family. Creating the most accessible foiling pathway in the world, from junior, to youth, to senior sailing.
– WASZP_X curved wing frame
– 5.8m Rig
– Recommended weight 30-45kg's
– Recommended age 11-14+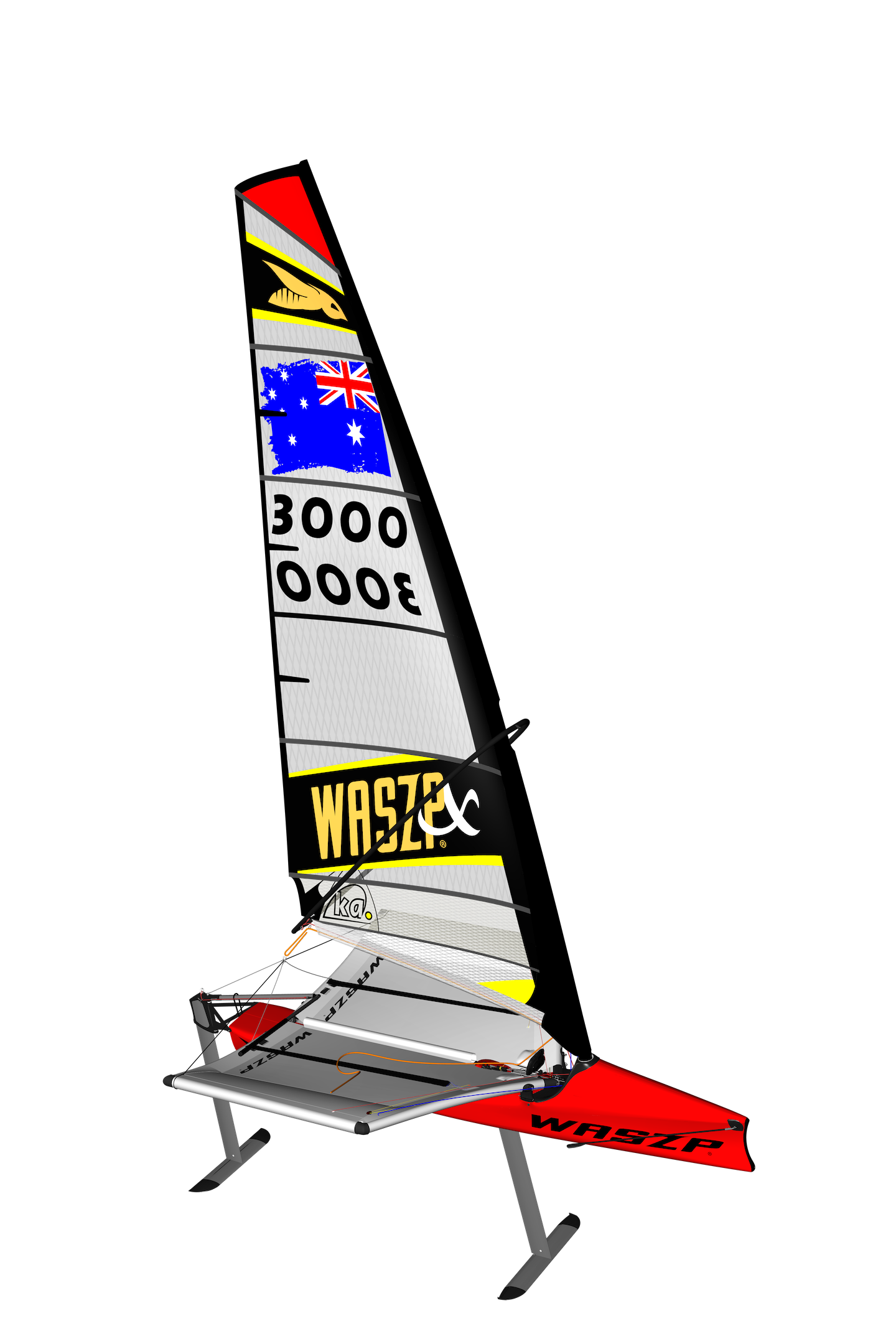 – WASZP_X curved wing frame
– 6.9m Rig
– Recommended weight 45-65kg's
– Recommended age 13-17+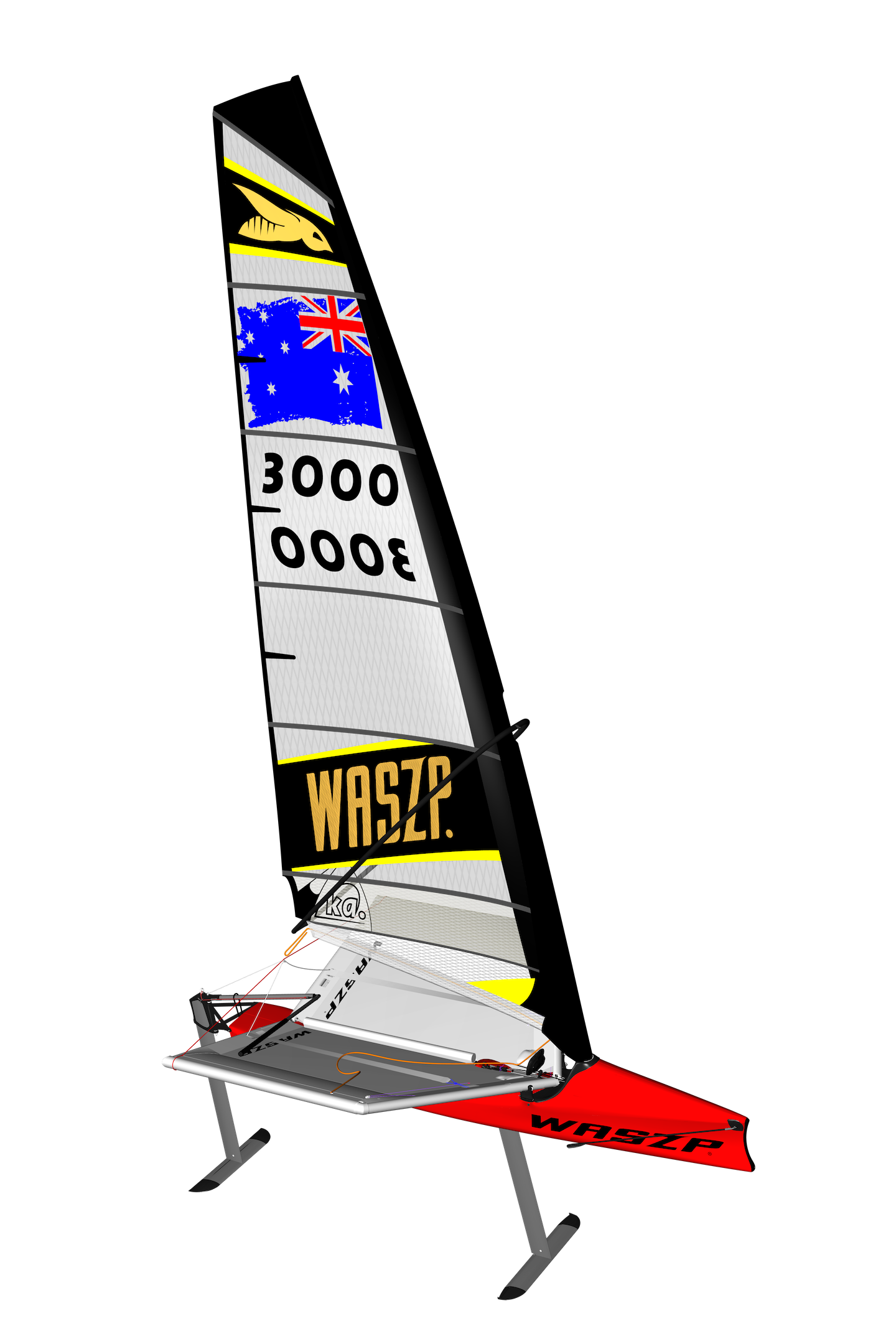 – WASZP standard wing frame
– 8.2m or 6.9m Rig
– Recommended weight 50-100kg's
– Recommended age 16+
Creating an all in one product that takes a 30kg junior sailor through to a 90kg adult sailor with one platform. In most sailing there are three transitions a sailor must go through to reach senior sailing from youth sailing. You learn to sail in a small junior boat, then transition to the youth classes and onto senior sailing. Each time you transition, you move to a different product and incur a significant cost, each step can incur a cost as much as $10-15,000 to make the jump. 
With our all in one WASZP foiling platform we are reducing the customer lifetime spend in the sport, bringing it back to something that is affordable over the entire journey. The WASZP 8.2, which is the senior end of the class is now well established with over 1,200 boats racing around the world. We are now introducing the WASZP_X to the mix, enabling younger sailors to experience the thrill of foiling on a stable and forgiving platform and to progress through the three transitions Junior/Youth/Senior at a cost of approximately $2,500 for each step. 
Both the WASZP_X and WASZP are strict one-design classes, this gives great protection of investment to our customers and provides the stimulus for a strong second hand market. Click here to see the class rules.
The WASZP_X uses all the existing technology from the popular WASZP platform that has taken the sailing world by storm. The WASZP_X is an introduction to foiling with two rig choices, while there is no age limit on this class it is designed for 11-16 year olds who weigh 30-65kgs.
PURCHASE THE WASZP_X
We will have 50 kits ready to ship out in mid-September, either as individual kits or with new WASZP_Xs. We will continue to communicate once you have placed your deposit about where you are in the queue and when you can expect to receive your kit. Choose which kit you would like to purchase below.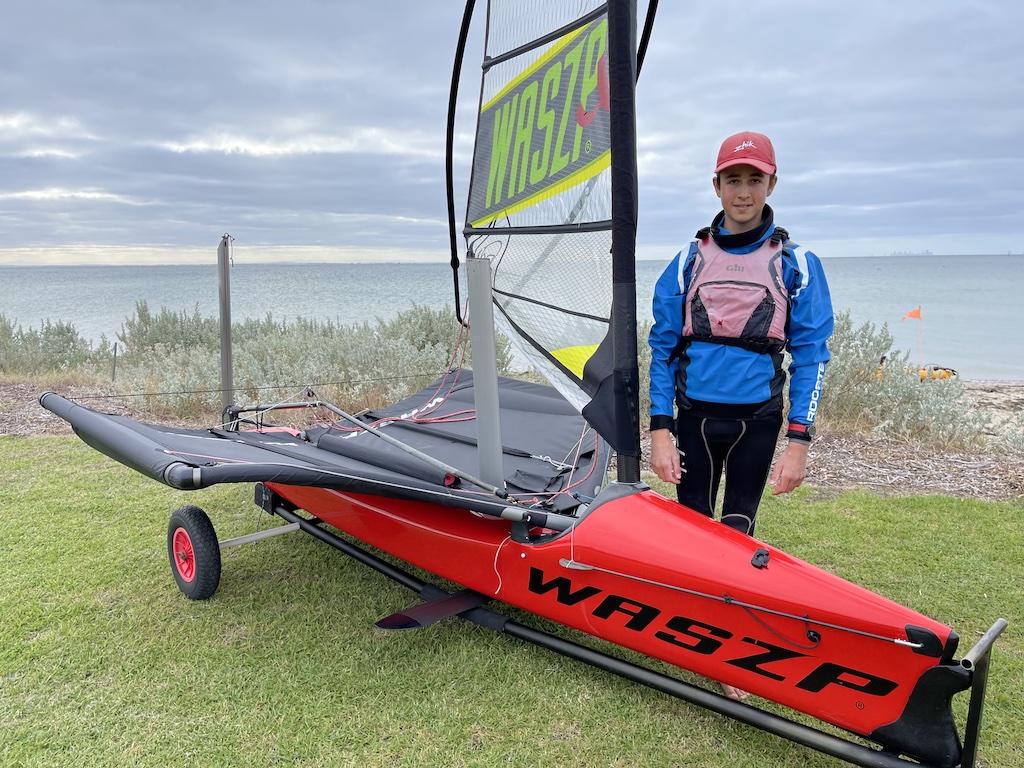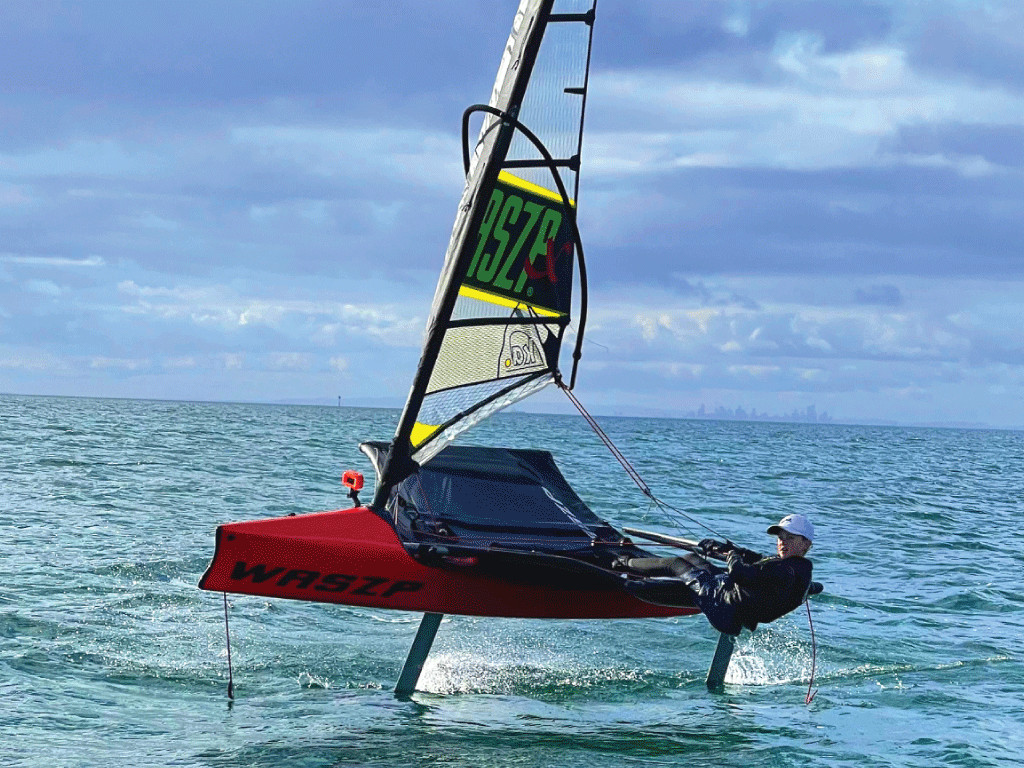 How is the WASZP_X different to the WASZP?
There are two main differences between the WASZP_X and the WASZP – the wing frame and the rig. For the WASZP_X, the specially designed wing-frame and external bladders to provide additional stability to the platform, making learning a breeze for young sailors. The wing-frame design avoids water trapped in the tramp, meaning easy capsize recovery, a more stable platform and easier take-off. The boat can be easily sailed in lowriding mode, allowing a simple transition to a foiling boat.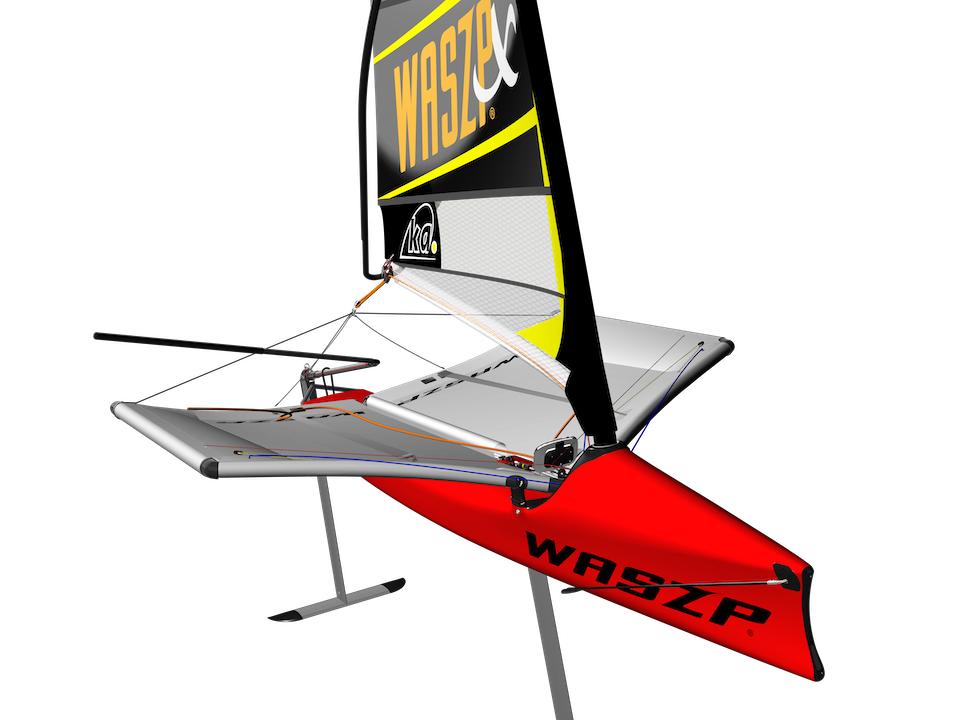 WASZP_X curved wing bars
(5.8m & 6.9m)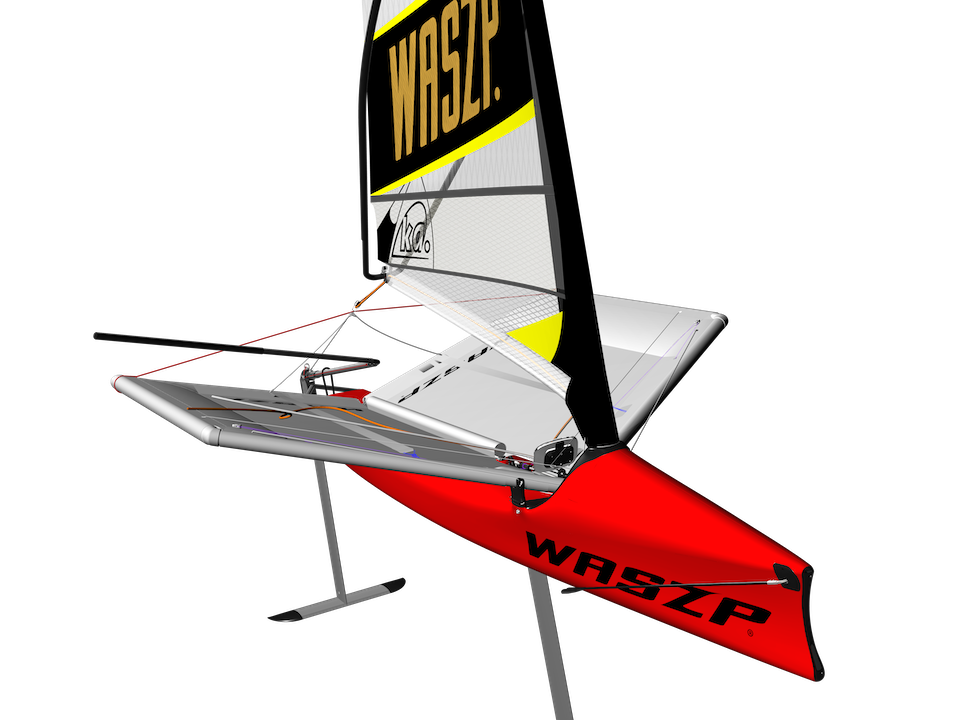 WASZP standard wing bars
(8.2m)
The second change is the rig, with two different rigs a 5.8m2 and an 6.9m2 rig giving a range of weight from 30-65kgs. The rigs are much lighter than the WASZP 8.2m2 rig and mean that the boat is not top heavy, making it forgiving in lowriding mode and extremely easy to right after a capsize for a 30kg sailor. These changes are designed around ease of use and increased safety measures for our young sailors.
The WASZP is an established class in over 40 countries with over 1,200 sailors joining the swarm. It is a perfect platform for male and female sailors to compete on a level playing field and the performance of the boat is exceptional and comparable to boats that cost 30% more.
The construction is robust, and maintenance is made easy, we have an extensive spare parts catalogue and technical support that reaches every corner of the globe. If you are in a country or region unsupported by an agent, the WASZP HQ team can assist you and deliver anywhere in the world.
World class foiling has never been more accessible. The WASZP is the perfect platform to enjoy one-design racing as well as a fun, friendly lifestyle, where anything is possible.
Ultimately, we're here to have a good time. The boat is awesome, so the sailing side of things is naturally epic. On the shore, the social scene is just as good, with sailors of all ages, genders and abilities sharing their experiences and living the WASZP lifestyle together. No matter who you are, where you are or how skilled a sailor you are, there is a place for you in the WASZP class.